"Aska Oval shelf is a functional and graceful and will be an object in any private or public spaces."
"Upgrade your nightstand with this clean oval shelf in perforated sheet metal by Swedish Aska Design studio." 
"Industrial materials are seldom sensual and soft. But it is precisely this look that succeeds the designers of the new Swedish label Aska."
Versatile shelf - easy to mount
The shelf is easily mounted onto wall with only two screws, regardless if its used horizontally or vertically. 
A loose shelf insert is included to put in the oval shelf for your favorite objects. You just slide it in and it fixates itself.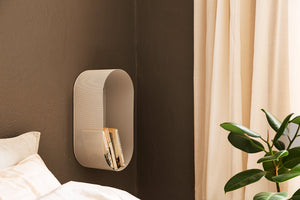 Aska Oval Shelf
Sale price Price 1,895.00 kr Regular price 0.00 kr
Tax included.
Shipping
calculated at checkout.
An oval shelf that is more than just a shelf.
This sensual and beautiful scandinavian bookshelf is for many more like an object. Aska oval shelf is a wall mounted versatile shelf that will fit your everyday life. This small shelf works as a bedside table or a nightstand by the bed for your books or what your bedside table is used for. This shelf will set your feeling and atmosphere for your bedroom or make a personality in any room.
This small shelf is versatile which means that you can simply have the shelf vertical or horizontal. Installed vertically, the loose floating shelf in the bedside table provides more ways of using the oval shelf, for good books, for ceramics, sculptures or objects that are special for you. Also a vertical shelf works great for small spaces, when space is limited next to the bed. The Aska oval shelf is more than just a shelf, more a piece of art on your wall.